Los Angeles Pick Up

Pick Up in store Redondo Beach, CA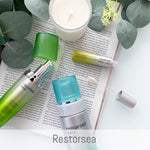 Restorsea PRO
What is Restorsea PRO?
Proprietary and patented technology fulfills essential skincare needs by providing similar effects to retinols but with NO irritation.
All products are formulated with non-toxic ingredients and contain NO: parabens, phthalates, PEGs, sulfates, silicones and mineral oil.
Restorsea has 34 issued patents for emulsion, non-emulsion and bi-phasic cosmetic formulations.
Restorsea has the 20 year exclusive rights to its proprietary hatching enzyme Aquabeautine XL®.