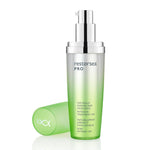 There are plenty of products that promise to make your skin better and the gold standard in wrinkle-fighting ingredients had been retinol.  Although retinol has multiple studies showing its power in reducing fine lines and wrinkles, some people struggle to tolerate certain side effects such as sun sensitivity, peeling, redness and irritation.  Alterative ingredients that are easier on sensitive skin or easier to tolerate daily do exist.  So, are fish eggs like salmon roe more hype or science?  Recent studies show salmon roe is an antioxidant, exfoliant, and collagen booster.  The omega oils in these fish eggs also strengthen the natural skin health barrier.  So, what's our favorite caviar for the skin?   RESTORSEA PRO INTENSIVE 10X.
Restorsea Pro Intensive 10X is part of the Restorsea Pro line that was developed and formulated by founder Patti Pao.  The incredible story of how this skincare line was discovered began in Western Norway.  While touring a salmon hatchery in Western Norway, Patti noticed that the workers' hands were much more youthful looking than their faces.  Intrigued, Patti and other researchers discovered a magical hatching enzyme, Aquabeautine XL, found in the waters the workers' hands were immersed in daily.  This enzyme is released when baby salmon are hatched to gently get out of their shells! Restorsea found that when Aquabeautine XL is applied to human skin, it gently exfoliates and dissolves away dead dull skin cells revealing healthy new glowing skin.
Restorsea Pro Intensive 10x Treatment is a great anti-aging alternative to retinol.  Studies show Restorsea Pro Intensive 10X can treat hyperpigmentation as well as glycolic acids without causing irritation or disruption of the skin barrier.  Since it's formulated to prevent moisture loss while soothing and calming the skin, it's an ideal anti-aging treatment product for those with sensitive skin and skin conditions like rosacea and eczema.  In fact, Restorsea Pro Intensive 10X contains no PEGs, parabens, phthalates, silicone or mineral oil–making it safe for pregnant women and nursing mothers.
Apply one pump to clean skin in the am and/or pm under moisturizer and watch your skin texture, quality, and clarity improve.